6 Questions to ask before hiring an HVAC contractor
Over the course of homeownership, hiring a new HVAC contractor is a task you will likely face. The job may feel overwhelming, with so many to choose from. Here are six questions to ask of any potential hire to help make your decision easier.
1. How long have you been in business?
Determining how long the HVAC contractor has been doing business can give you a good indication of his experience and knowledge in the industry. *We've been in business since 1971!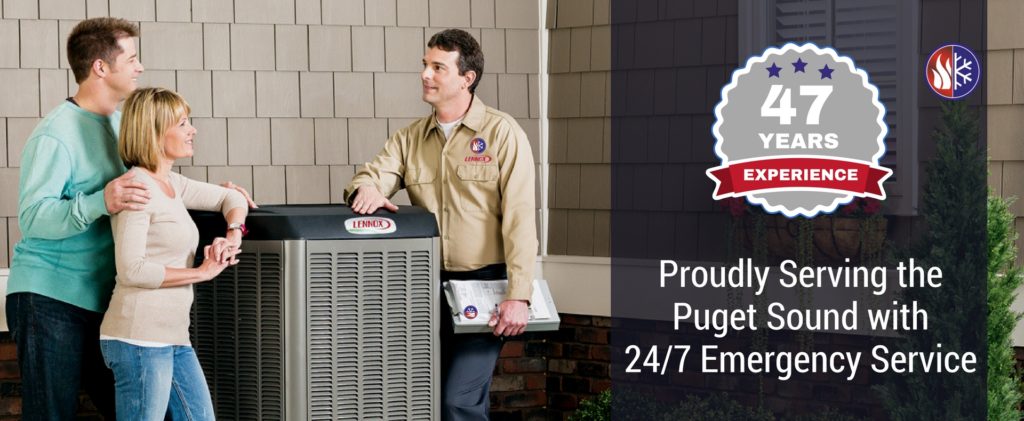 2. Do you have local references?
Before hiring a new HVAC contractor, request a minimum of three recent local references. Follow through by calling each one to determine their level of satisfaction with the work done, as well as the timeliness of the project. *Ask and you shall receive. We've served customers in and around the Puget Sound for over 47 years — that's a lot of references!
3. What additional services do you offer?
After the work is completed, you may require further services from planned maintenance to a new installation. Don't forget to inquire about 24/7 emergency service as well. *Ronk Brothers Heating and Cooling is a full-service company, offering all the services you'll need over the life of your HVAC systems.
4. Do you have an up-to-date license and insurance?
Ask the HVAC contractor for his license number and run a search online at the State of Washingon website. In addition, verify the contractor has current liability insurance, to protect you in the event of damage or injury. Hiring an uninsured contractor may result in a denial of a claim through your own homeowners' insurance. Ronk Brothers Heating and Cooling is WA state certified HVAC Contractors and a Member of NATE.

5. What warranties do you offer?
Find out exactly what will be covered in terms of both parts and service. A warranty should be clear and concise. *Our service technicians will go over all warranties with you, including any manufacturer's warranties.
6. Will you pull the required permits?
Permits exist to protect both homeowner and HVAC contractor, by ensuring work is done up to building code standards. *Ronk Brothers Heating and Cooling will ALWAYS pull the required permits.
At Ronk Brothers, "We install the best, and service the rest"!
When the time comes to hire a new heating and cooling contractor, give us a call 1-800-366-2619 or email us at hello@ronkheating.com. For over 47 years, we have been providing quality service to the residents of Skagit, Snohomish, Whatcom, Island, and San Juan Counties.